Weddings in Boise
The Barber Park Event Center is only one of the many choices for your happy day in and around the city. Being one of the most historic and greenest cities in the region you will find no end of perfect possibilities for your special day.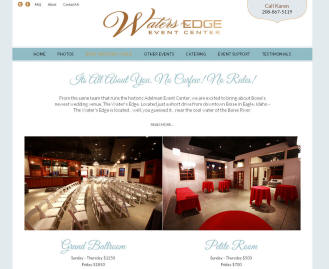 One of the newest options is The Water's Edge which is also on the water obviously, but almost the other side of the city from Barber Park as it is located in Eagle, just off Route 55 and adjacent to the Boise River a long way down stream! Sadly no you can't float from one wedding location to the other, though wouldn't that make a special day for the water loving couple? See more about The Water's Edge at their website (pictured) or find them on facebook.
For something near to the city center consider the Adelmann Building which is Which is located just down N Capital Blvd from the capitol building itself. Perhaps a photo shoot on the lawns in front of the capitl could be a prelude to dinner and dancing! A historic low rise building it has limited parking at the rear and easy walking distance to many facilities. Find out more at www.theadelmann.com.
Looking to get out of the city and have a rural country wedding with great vistas across the plains, but still be by the water, then consider Fox Canyon Vineyards. Located near Marsing just 45 minutes drive away from Barber Park it is a working Vineyard overlooking the Snake river near Fruit and Dilley Islands. On their website find more details and a virtual tour.
Several hotels in the city have a great reputation as wedding venues, including the Marriot and the Riverside Hotel.
Barber Park - Unofficial Guide - Floating - Event Center - Tube Rental
For more information please go to the Ada County Parks & Waterways website: https://adacounty.id.gov/Parks-Waterways