Boise River Float Take Out
The end of your river floating trip is at Ann Morrison Park . Just 6 miles along the lazy river the float takes about two hours from put in to take out. Once you have past the islands and see the Old railroad Bridge you know your time is almost up and should start drifting towards the left side of the river.
During the busy summer season a lot of floaters are trying to leave the river at the same time, so there are two places to leave the water on on the left side of the river. The first is upriver from the the pedestrian bridge while the other is just past it.
Do try to aim for the first take out point, and if you miss it then the second. If you miss the second then you'll be paddling backwards to try again which may not be very relaxing!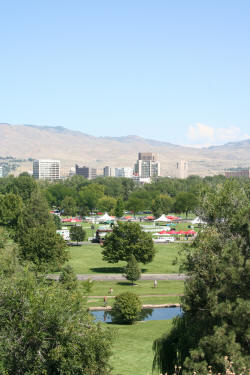 In the Ann Morrison Park right next to the take out points you'll find facilities including bins for both recycling and for trash. Do keep our river and our parks clean! Restrooms are also located in the park.
Remember, no glass containers are allowed on the river and no alcoholic beverages are permitted either.
If you have rented equipment from Epleys such as rafts and innertubes don't worry about taking them back to Barber Park, you can hand them in at Ann Morrison Park, presuming you don't want to go around again that is!
Consider spending some time in the Ann Morrison Park itself, did you know it was developed in 1959 by Harry Morrison of the Morrison-Knudsen Company ? They built the Hoover Dam and Kennedy Space Center. Harry dedicated this park to his wife Ann.
Inside the park you'll find plenty of park benches and picnic tables shaded by the mature trees. There are also great walking, biking and wildlife trails. Don't miss the Water Fountain in summer where you can get soaked, if you managed to stay dry during your float of the river!
Barber Park - Unofficial Guide - Floating - Event Center - Tube Rental
For more information please go to the Ada County Parks & Waterways website: https://adacounty.id.gov/Parks-Waterways